Meeting Reports
The 4th Xi'an International Psoriasis Forum
Date
August 24, 2019 (Sat) ~ August 25, 2019 (Sun)
Venue
Xi'an, China
President
WANG Gang, M.D. & Ph.D.
(Chairman and Professor, Department of Dermatology, Xijing Hospital, Fourth Military Medical University & The Vice President of the ASP)
Participants
About 210 persons
Reporter
FAN Pingshen, M.D. & Ph.D. (The Director and the Secretary in China of the ASP)
 The Fourth Xi'an International Psoriasis Forum co-organized by Department of Dermatology at Xijing Hospital and a marketing team of LEO Pharma was held in Xi'an on August 24, 2019.
 This forum invited 16 renowned experts of psoriasis research from home and abroad, to present their work in a broad range of topics, including pathogenesis, therapeutic strategy, patient management, and etc. "Skin disorders mediated by T cells" reported by Prof. Thomas S. Kupper and "Treatment of psoriasis during pregnancy" reported by Prof. Mariko SEISHIMA and others speeches were warmly responded and highly recognized by participants. The forum received 210+ psoriasis experts on site and was also watched by 1,400+ audiences online.
 Thanks to the kind guidance of Prof. Gang Wang, Chair of Xijing Dermatology and president-elect of Chinese Dermatologist Association, enthusiastic support and contribution of participating experts, as well as the hard work of LEO pharma, this forum successfully built a good platform for information exchange in psoriasis reach within and between the domestic and international dermatology community, and was highly praised by participants. Leo pharma will make continuous effort to organize such academic events and exchanges, to enable more dermatological practitioners obtain appropriate therapeutic options and bring wellbeing to more psoriatic patients.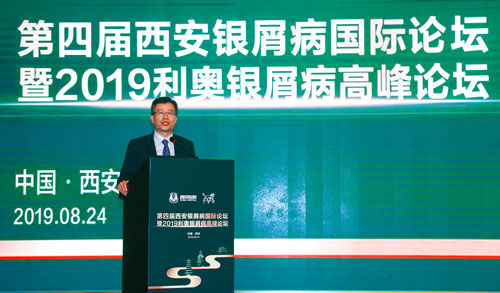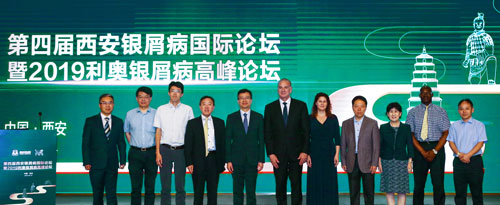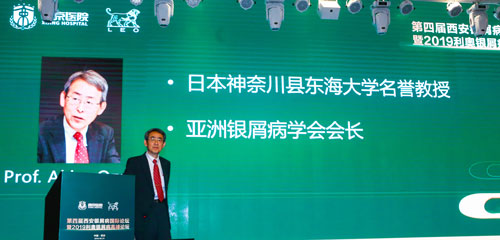 The 34th Annual Meeting of the Japanese Society for Psoriasis Research
Date
August 30, 2019 (Fri) ~ August 31, 2019 (Sat)
Venue
Kyoto Hotel Okura, Kyoto JAPAN
President
KATOH Norito, M.D. & Ph.D.
(Professor and Chairman, Department of Dermatology, Kyoto Prefecture Medical University, Kyoto, JAPAN & The Director of the ASP)
URL
http://www.cs-oto.com/jspr34/
Participants
About 800 persons
Reporter
TOKUYAMA Michio, M.D. (The Directoe and the Secretary in Japan of the ASP)
MABUCHI Tomotaka, M.D. (The Vice President of the ASP)
 In recent years, research on the pathology of psoriasis has made tremendous progress, and the newly developed treatments have produced amazing effects that could not have been imagined 30 years before.
 However, on the other hand, there is a fact that DLQI of patients who have achieved PASI clearance with biologics is not always zero. Thinking deeply in the heart of psoriasis patients is essential for those involved in psoriasis medical care and research. In addition, as the word "Drugs don't work in patients who don't take them," no matter how effective the drug, care must be taken to improve treatment adherence. Of course, dealing with complications and giving consideration to the social life of patients are also important. While thinking about the program of this society, I became aware of the importance of conducting psoriasis more broadly, deeper and more kindly than just examining the surface of the skin. "Beyond the Skin Surface".
 As for general presentations, 170 presentations were presented, and about 1,000 dermatologists and scientists from Japan, the United States, China, Korea, Taiwan, Thailand, and other countries participated.
 In the president's special plan, Prof. Otsuki who is the president of JSPR gave a lecture on the history of MTX approved in Japan in 2018.
 In the special lecture, Dr. Uwe who is a professor of Department of Dermatology and Clinic of Psychosomatic Medicine and Psychotherapy, Justus-Liebig-University of Giessen lectured psoriasis and burden of disease, Dr. Andreas who is a professor of Department of Dermatology and Allergology Ludwig-Maximilian University lectured treatment adherence in chronic inflammatory skin disease.
 At the symposium, psoriasis in children, the aim of improving adherence in psoriasis treatment, and PAO and SAPHO syndrome were lectured.
 At the educational lectures, control of immunity and inflammation by sympathetic nerves, pathology of psoriasis, psoriasis and itching, elucidation of the pathogenesis of psoriasis and genomic drug discovery using genetic statistics, and focal infections such as palmoplantar pustulosis were lectured.
 In general presentations, there were many such topics as biologics including anti-IL17 monoclonal antibody, anti-IL17 receptor monoclonal antibody, anti-IL23 monoclonal antibody, their adverse events, and apremilast.
 This year's topic was that guselkumab has been adapted for palmoplantar pustulosis in Japan. Many presentations on palmoplantar pustulosis and palmoplantar pustulotic arthro-osteitis were presented
 In Asian Psoriasis Forum, Prof. Mabuchi who is a professor of Department of Dermatology, Tokai University, Prof. Yamanaka who is a professor of Department of Dermatology, Mie University, Dr. Sindhvananda who is a senior advisor to CICM, Thammasat University, Dr. Fan who is an associate professor, Department of Dermatology Xijing Hospital, Fourth Military Medical University, Dr. Dino Tsai who is a head of Psoriasis Clinic, Department of Dermatology, Dianthus Medical Group/ Taiwan Adventist Hospital/ Dr. Huang Dermatological Clinic, and Prof. Shin who is a professor of Department of Dermatology, Chosun University lectured each countrie's psoriasis epidemiology, genetic and environmental factor, treatment, public health insurance, and so on.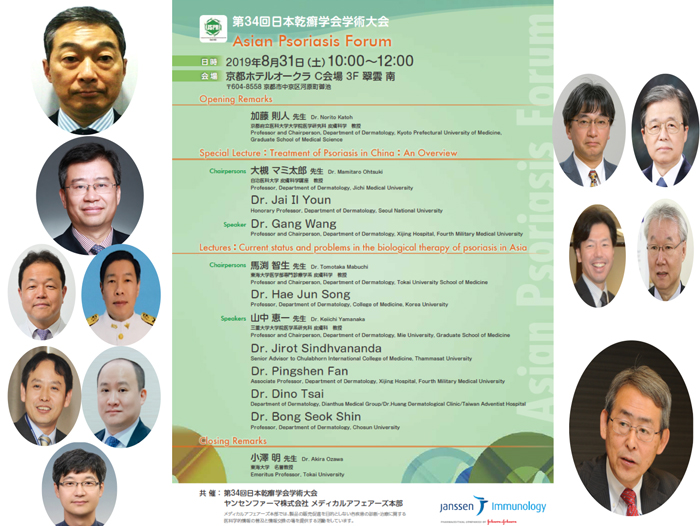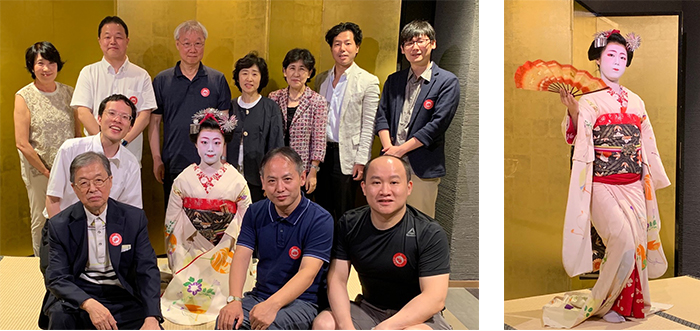 The 23rd Annual Meeting of the Korean Society for Psoriasis
| | |
| --- | --- |
| Date | September 7, 2019 (Sat) |
| Venue | Seoul Dragon City, Seoul, Korea |
| President | SONG Hae Jun : Professor, Department of Dermatology, Korea University, Seoul, Korea & The Vice President of the ASP |
| URL | kspder.or.kr/program |
| Participants | About 150 persons |
Reporter
JO Siongjin, M.D. & Ph.D. (The Director of the ASP)
SONG Mae Jun, M.D. & Ph.D. (The Vice President of the ASP)
 The Korean Society for Psoriasis was established in 1997 to promote research activities and to improve the quality of management for patients with psoriasis in Korea. During past years, the KSP make various commitments and play pivotal role to encourage research activity, to provide education for dermatologists and patients, and to improve public awareness on psoriasis.
 The KSP is also communicating and sharing expertise and friendship with other societies/researchers studying on psoriasis.
In this year, distinguished lectures were presented, including "The latest updates on the optimal topical treatment of psoriasis" by Dr. Sascha Gerdes (University of Medical Center Schleswig-Holstein, German), "The role of biological therapy in the new era" by pf. Giampero Girolomoni, and "New novel biologics for complete clearance" by pr. Kim Papp.